Spreadsheets are a draaaaaaag. That's a good thing. Let me explain. In this article I'll show you how to use autofill (aka auto fill) and open your eyes, a bit, to all the cool things you can do with it. Let's go!
Ok. Even if you don't think so, spreadsheets are cool. Cool and powerful.
Hip-hop and EDM have auto-tune. Spreadsheets have a cool trick too…
Auto

fill

!
Did you know you can drag the lower-right-hand corner of a cell (or more than one cell) and amazing things happen? Let me show you how. You can thank me later when you take over the world with your spreadsheets.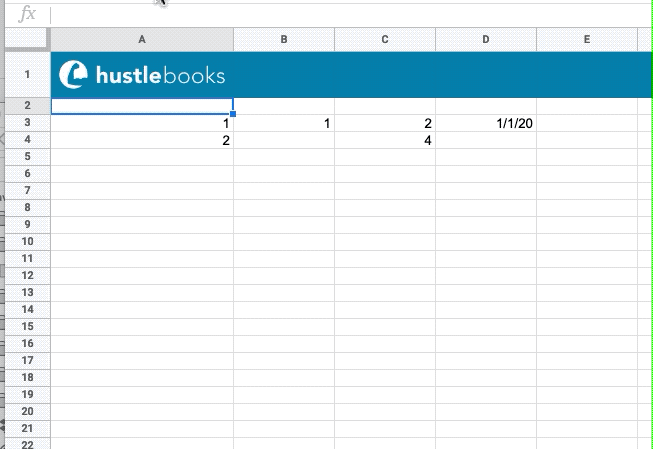 You can use autofill to duplicate a single value down a column or row. Or have it repeat a pattern. Or have it put in a range of values of dates or other repetitive data. All without doing the work yourself.
In most cases it just guesses what you have in mind. Other times you just have to put the first two values in and then it figures it out. It's a useful tool…for nerds…as well as marketers, programmers, grahpic designers, and world-taker-overs of modern business. Use it well.
Most folks in Google sheets land call it "autofill". Be sure to use that search term the next you Google about it to learn how to do crazy fun things. Most folks in Microsoft Excel land call it "auto fill".
Here are two articles, right from the source about autofill:
Oh, and while you're here!
We make awesome sheets that you can use to easily run your business.
Are you tired of paying all these never-ending software subscription costs? We were. So we built HustleBooks. We use it every day. Now you can too!
You don't need expensive complicated software. Rock it with our simple sheets to run your side hustle or small business. 💪
HustleBooks Starter – our

free

sheet to get you up and running with no delay.
HustleBooks Hub – our flagship product; manage money in, money out, expenses, mileage and all the good stuff you need to run your show. Purchase once and customize forever.
HustleBooks Project – a simple and beautiful way to do invoices and expenses. Purchase once and reuse forever.