Manage your business finances and keep more of your hard-earned money.
💰 Manage Money
First, use the Pro course and Spreadsheet-app easily manage projects and track income.
💸 Keep More Of It
Next, track and organize expenses so you can keep more of the money you've earned.
Be Up and Running in Less Than 40 Minutes
HustleBooks Pro is a 25-minute Course + an easy-to-use Spreadsheet-app. Boom. You're set!

📚 + Our other Spreadsheet-Apps to manage other aspects of your side hustle or small business: invoice-maker, time sheet, and project manager.
With this 23 minute course you'll develop a complete plan and have customizable spreadsheet-app that can single-handedly run your business finances.
Once your more established, or to lay a more complete groundwork for your business, grab HustleBooks Pro.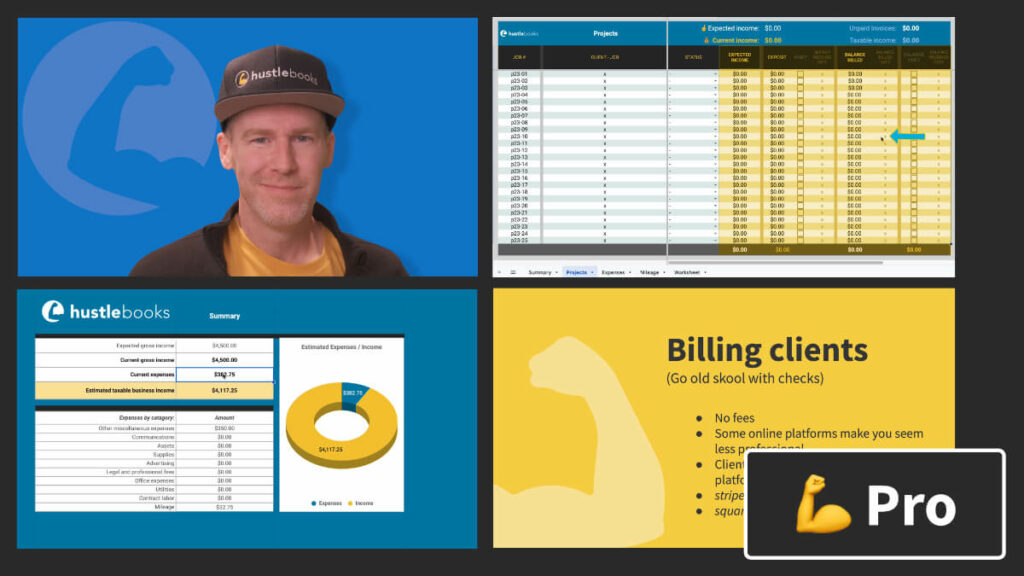 Track the status of clients and projects/jobs/gigs
Monitor cash flow: expected and actual income, deposits, payments, and expenses
Organize and track expenses so you can minimize taxes and keep more of your hard-earned money
Log car mileage (you'll be amazed how fast it adds up, and we make it easy)
Learn our tops tips for running a side hustle
+ Additional Spreadsheet-Apps:

Send invoices with our included Invoice template
Manage projects from estimate to invoice with our Project Organizer
Pro
25 Minute Pro Course
5 Spreadsheet-App instruction modules
Business tips
-----
Spreadsheet-App Advanced Features:
Track clients / projects / jobs
Track income (expected, actual, and taxable)
dTrack deposits and payments
Track expenses by category
Track car milage
Automated business summary
-----
Other Spreadsheet-Apps Included:
Bonus: Invoice Spreadsheet-App
Bonus: Project Management Spreadsheet-App
Bonus: Timesheet Spreadsheet-App
Go Pro
Starter
5 Minute Course
1 Spreadsheet-App instruction module
x
-----
Spreadsheet-App Basic Features:
Spreadsheet-App Basic Features:
Track income (expected and actual)
Track deposits and payments
x
x
x
-----
x
x
x
x
Get Started For Free
Spreadsheets Are Apps
Software as a service (SaaS / online apps) cost you money every month.
Spreadsheet-apps save you money every day.
Purchase once. Use and customize forever.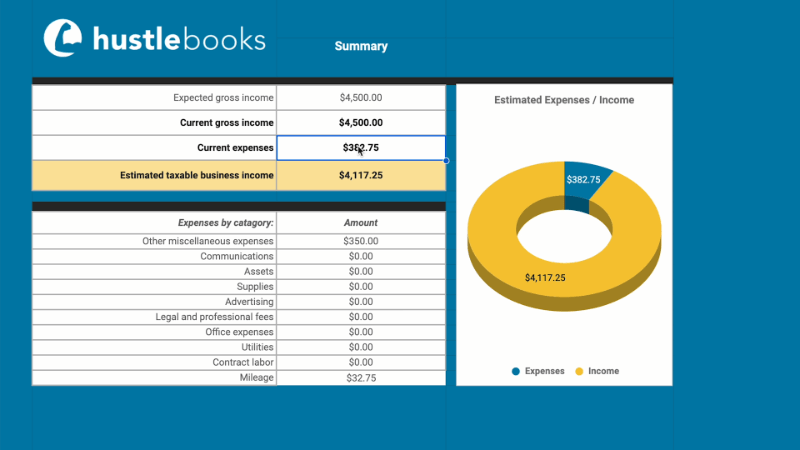 Hustle Smarter
Run your books
Save on taxes
Work offline
No subscriptions
Unlimited users, and collabortors
Fully customizable